Not every project that we design is produced in our studio. Often we develop designs and working drawings for projects that are built by other craftsmen.


For Architects and Decorators we can design the pieces that complete the spaces that they have developed with their customers. We can produce the details and drawings that bridge the vocabulary between designer and craftsman.


For the individual owner we can completely develop the project , starting with the layout within the space to the final details and construction documents. Of course each project is different but all include a discussion of goals and desires, a design process with multiple options, exploration of materials, and the production of construction drawings with specifications. We feel that each project is an adventure in design that hopefully becomes an interesting and enjoyable learning experience.
Please examine the examples below where we show the types of drawings that we can provide for your project. Designs can be executed traditionally on paper or electronically on our CAD program.


"I Design" is also the exclusive Furniture and Cabinet Design Studio for "Northern Audio - Home Theatre", the Pittsburgh area's most respected audio and video design and installation group.
'
'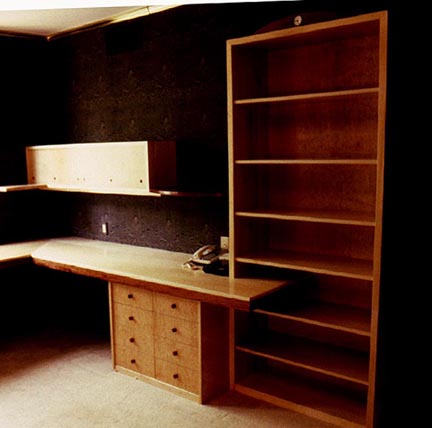 A home office for a very sophisticated art collrctor in an apartment enviorment. The program includes locked files, drawers, work surface,TV space, and bookcase. Maple, Curly Maple, and Bubinga.
'
'
'
''
'
'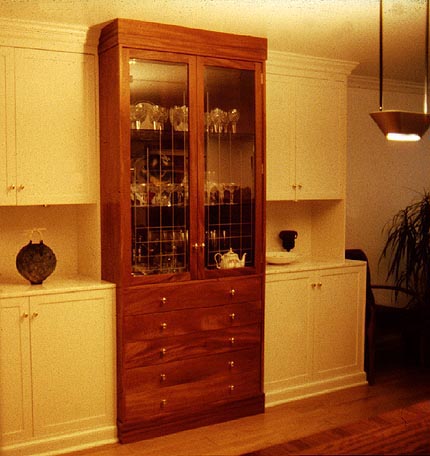 In a traditionally detailed new townhouse the client has purchased a craftsman mahogany dining table. The trim through out the house is painted white. We designed a built-in hutch that bridged the detailing of the table into the architectural vocabulary of the house. Maple,painted white; African Mahogany; Etched Glass.
In a very astere townhouse we were asked to design a center piece dining table and matching buffet. The dining space is directly visible from the living area. Black Acrylic, Glass, Curly maple, Lacquered Maple