WELCOME TO I DESIGN.

"We are a group of committed artisans and designers who have spent the past 30 years exploring the possibilities of Furniture Design, fine Woodworking, and Craftsmanship."



Bruce Berman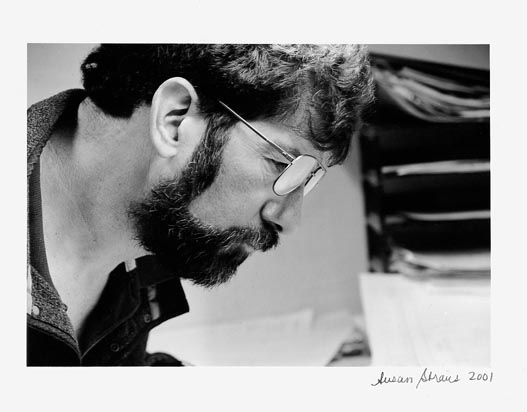 Our founder and head bottle washer is Bruce Berman. Early in the history of our company , before the glaciers melted, Bruce helped craft every project that came out of the shop as well as design and detail all of the drawings. Today, though he no longer has the time to work on each piece, every design and each drawing is still created on his drawing board.

Bruce attended Carnegie Mellon University and completed his course of study in Architecture by 1974 . During his last year of school he supported himself as a woodworker as part of a cooperative workshop. Upon graduation he spent three years as a designer-builder with the other members of the workshop.It was during this period that he began his exploration of woodworking and furniture making that continues to the present.



Thomas White - Foreman and Project manager Senior Craftsman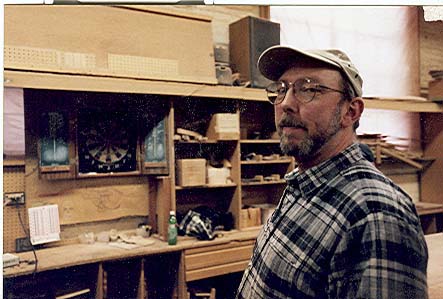 Tom holds a bachelor's degree in Art from the University of Pittsburgh and a Master of Fine Art degree from Northern Illinois University. He has studied art and craftsmanship in the United States and in Europe, becoming well versed in several artistic disciplines as well as art history. He has been with I Design since 1988 and is now the Shop Foreman, applying his art background and woodworking skills to a variety of traditional and modern designs.




Thom Bryant - Project Manager / Senior Craftsman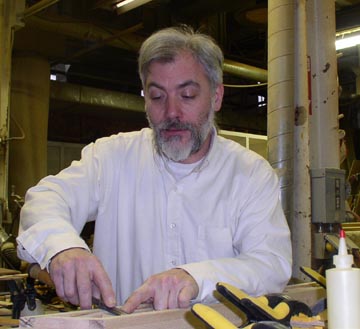 Thom started his working at career at 18 as an apprentice for Philadelphia's noted Gino Russo. He stayed with Gino for 8 years dong his best to absorb 10 generations of Italian woodworking. After establishing himself as a skilled furniture maker Thom spread out to stained glass. He left Gino's studio to work at Cresent Stained Glass in Philadelphia. After 2 years he came back to Pittsburgh to joined the Phoenix Stained Glass Studio where he worked for 4 years. When Thom joined I Design 17 years ago he was ready to merge his skills in stained glass with woodworking to create work on an entirely new level. All of the pieces in the porfolio that incorporate glass involve Thom. We will soon be adding a gallery for glass.


Shows ,Exhibitions, and Special Projects
Below is a resumé of exhibitions, events and organizations for both Bruce Berman and I Design .

Bruce Berman
I Design
2820 Smallman St
Pittsburgh, Pa., 15222
412- 471-2525

Education
Bachelor of Architecture, Carnegie- Mellon University, 1974
Associatons



Associated Artists of Pittsburgh

Craftsman's Guild of Pittsburgh

Pittsburgh Center for the Arts



One and Two Persons Shows



1990 The Blue Sky Gallery ,Pittsburgh, Pa. ;Towards a New Formalism;

1986 The Society for Arts in Crafts, Verona, Pa. ;Two onWood;

1983 The South Bank Gallery, Pittsburgh, Pa.

1980 Shadyside Academy Gallery, Fox Chapel, Pa. ;Two Woodworkers;

1976 Sewickly Academy Gallery, Sewickly, Pa. ;Bruce Berman, Furniture



Group Shows and Events



1999 Mattress Factory, Pittsburgh Pa., Commission for the Permanent Collection

1995 AIA Pittsburgh Chapter, Annual Awards, Certificate of Merit ;Open Plan

1994 Pittsburgh Craftsmans; Guild Annual, Juried, Juror;s Award

1993 Carnegie Museum of Art, Associated Artists Annual, Juried

Pittsburgh Craftsmans; Guild Annual, Juried, Juror;s Award

1992 Carnegie Museum of Art, Associated Artists Annual, Juried

Pittsburgh Craftsmans; Guild Annual, Juried

Curator, Craftsmans; Guild Exterior Show

1991 Pittsburgh Craftsmans; Guild Annual, Juried, Juror;s Award

Curator, Craftsmans; Guild, First Exterior Show

1989 Carnegie Museum of Art, Associated Artists Annual, Juried,

Pennsylvania Museum, Harrisburgh, Pa., Art of the State, Third prize

Sansar Opening Invitation, Sansar Gallery, Washington, D.C.

PittsburghCraftsmans; Guild Annual, Juried, Juror&;s Award

1988 Carnegie Museum of Art, Associated Artists Annual, Juried, Juror;s Award

Pittsburgh Craftsmans; Guild Annual, Juried

1987 Southern Allegheny Museum of Art, Loretto, Pa., ;Twentieth Century Design in

Pennsylvania;, Invitational

Carnegie-Mellon University Craig St. Gallery . ;Unlimited Horizons in Public Art

Carnegie Museum of Art, Associated Artists Annual, Juror;s Award

Pittsburgh Craftsmans; Guild Annual, juried, Jurr;s Award

Society For Art In Crafts, Pittsburgh, Pa., Invitational Opening

1986 Silver Creek Survey of American Woodworkers, Boston, Mass.

Phipps Consevatory, Pittsburgh, Pa., Sculpture Invitational

Carnegie Museum of Art, Associated Artists Annual, Juried,

Pittsburgh Craftsmans; Guild Annual, Juried

1985 Westmoreland Museum of Art, Greenburg, Pa., AAP 75 th Invitational

The Bird in the Hand Gallery, Sewickly, Pa., ;Wood and Fiber;. Invitational

Gallery G, Pittsburgh, Pa., Grand Opening, Invitational

Carnegie Museum of Art. Associated Artists Annual, Juried, Juror;s Award

Pittsburgh Craftsmans; Guild Annual, Juried

1984 Ogelby Institute, Wheeling W.V., ; Wood 84;, Juried

Pittsburgh center For the Arts, ;Pittsburgh Furniture Makers;. Invitational

Westmoreland Museum of Art, Greensburg, Pa., Regional Invitational

Carnegie museum of Art, Associated Artists Annual, Juried. Juror's Award



Pittsburgh Craftsmans; Guild Annual, Juried,

1983 Three Rivers Art Festival, Pittsburgh, Pa., ; Contemporary Furniture; National

Carnegie Museum of Art, Associated Artists Annual, Juried

Pittsburgh Craftsmans; Guild Annual, People;s Choice Award



1982 Pittsburgh Craftsmans; Guild Annual, Juried



Corporate Commissions and Collections



Bayer USA, USX, Marc INC, Aristech, Wesco, National Intergroup, Fisher Scientific

The Corporate Word, Grindberg Feldstein Stein McKee, Terra Assoc. Ect.



Non Profit



Temple David, The Church of the Ascension, Temple Sinai, The Mattress Factory



Major Private Collections



Myer Berger & Family ( M. Berger Co), Joseph Katz & Family ( Papercraft Corp),

Yale Gutnick, James Winokur ( Air Tool Products ) , John Block ( Block Newspaper Group),